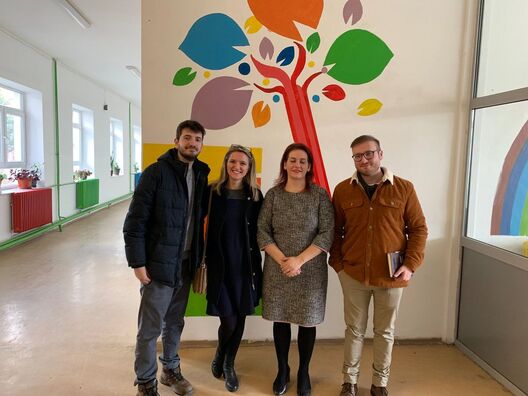 While working to build a teacher profile, Teach For Kosova met many accomplished school leaders and teachers in the municipality of Gjakova. One of these school leaders, Zana Kurtishi-Rudi, exemplified what it means to be a visionary leader who is determined to tackle the challenges that her school faces and improve the educational experience for all students who attend Mustafa Bakija Elementary School. Prior to leading Mustafa Bakija Elementary School, she worked as an IT Teacher at an elementary school in Gjakova for 10 years. During her time as an elementary school teacher, she took on the responsibilities of a Curriculum Coordinator for the "Life and Work" field. Additionally, she developed the administration and assessment instruments for all statistics classes in the country, as well as the school- based development plan for capacity building of teachers.

Zana has worked closely with the Ministry of Education for seven years as a Master Learning Facilitator in: Training Trainers, Assessment, Technology in Education, and Web Design for schools. Together with the Pedagogic Institute of Kosovo and the Ministry of Education, she developed the Manual for Developing Methodology Practices in Teaching, Assessment, as well as planning the lessons in the "Life and Work" field which has -Technology and Informatics and hands-on learning in elementary school grades 1-5.
​During our meetings with Zana, a theme that was brought up frequently was teacher appreciation. Zana emphasized her belief in her teachers and the work they do at her school—as well as the importance of appreciating their dedication to their students. Moreover, Zana has been working towards improving students' experiences at Mustafa Bakija, to ensure that they are receiving the best possible education. In order to achieve this ambitious goal, she has created a system in which the school evaluates the needs of teachers, students, parents, and the school as a whole, in order to make effective decisions that address the needs of all parties.

Zana expressed that in order to make these decisions; communication, teamwork, transparency, and accountability are all factors that must be present for the school to be successful. To that end, she explained that at Mustafa Bakija, there are multiple teams that each have designated roles and responsibilities that work together with her and strive for continuous improvement. As an example, she mentioned that this year the school conducted its first internal evaluation. Through the combined effort of students, teachers, parents, and school leaders, Mustafa Bakija Elementary School was able to analyze, identify, and corroborate data on what areas the school needs improvement. As a result, the school has a clear idea of where to allocate resources and how to lessen the different obstacles that were identified through the internal evaluation.
​
Zana exemplifies what it means to be a leader who motivates and inspires others to work towards a common goal. Through her leadership, Mustafa Bakija Elementary School continues to grow and prove that when we work together, anything is possible.